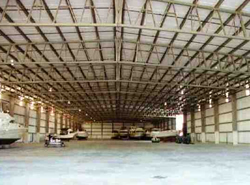 Steel Framing Systems
Golden Giant steel framing systems are engineered to provide exceptional design flexibility and optimum performance. Golden Giant engineers design your building based on your specific needs.
With a variety of framing options to choose from, Golden Giant framing systems meet your toughest building challenges, providing large unobstructed spaces, bridge cranes, roof extensions, mezzanines and more.
Golden Giant buildings are designed with a Rigid Frame Truss design. Rigid Frame design is ideal for unobstructed, economical spaces and provides unsurpassed interior flexibility.
All Golden Giant buildings can be designed with either tapered or straight leg columns. Use straight leg column design for ease of interior finishing. Tapered leg columns can be used for building economy. Golden Giant steel buildings can also be specified for use with non-load-bearing conventional wall - glass, tilt-up, block, etc.
Primary Framing Types:
Rigid Frame

Clear Span
Double Span
Triple Span

Straight Leg

Clear Span
Double Span
Triple Span