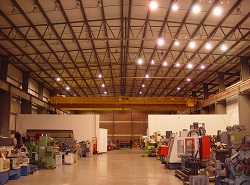 Industrial Steel Building Systems
When we think of industrial, we think of production. How can we make your building as economical, as well as efficient for your unique business? We are able to do this by understanding your business and how it operates. Our goal extends far beyond providing you a quote for a building; we're here to save you money in the long run.
Golden Giant has built numerous industrial facilities from 4,000 sq. ft. to 500,000 sq. ft. with eave heights from 12 feet to 72 feet. All of the buildings we manufacture are designed to meet or exceed the state and local requirements. If you need specific load designs for your new building, we will work with your architect or engineer to satisfy your requirements.
Golden Giant can provide you with the size and type of structure you need to fit your specific requirements. All Golden Giant buildings are engineered to guarantee structural excellence, functional uniqueness and dramatic appearance.