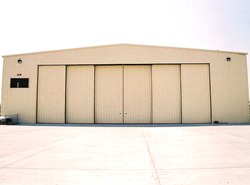 Aviation Hangar Steel Building Systems
If you need multiple units for a busy commercial airport or a single unit for your personal use as a go get 'em businessman or a flying farmer, you should consider Golden Giant Hangars. Our steel hangars are the dependable, economical solution you have been looking for.
Both the "nested" and "stretch" designs will easily accommodate all light-to-medium jet or propeller driven aircraft with storage and/or office space to spare. Low construction and maintenance costs, agreeable design, and carefully engineered and manufactured components make the Golden Giant Steel Hangars a one-time investment worth considering.
Our bottom-mounted sliding door system is featured on Golden Giant Hangars. Sliding doors are easy rolling, offer zero wind resistance and reduce installation time by 50%. We also offer bi-fold doors for group hangar applications.
Golden Giant hangars are pre-manufactured and arrive at your site ready for quick erection. Design, fabrication, and precise fitting are under constant and close supervision.